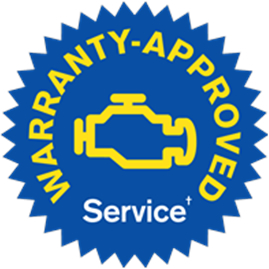 Synthetic Oil Change
Change your vehicle's oil on a regular basis. This will help improve fuel economy by increasing the life of the engine in your vehicle. Clean oil reduces wear caused by friction between moving parts and removes dirt and grime from the engine. A clean air filter will also help to improve fuel economy.
Synthetic oil helps promote longer life and better performance in most vehicles. It bonds to engine parts providing a layer of protection that surpasses the protection afforded by conventional oil. Synthetic oil will also continue to pump through your engine when conventional oil would start to thicken in cold temperatures or break down from heat.
Warranty-approved service for peace of mind
It's a common misconception that you must get your vehicle serviced by your dealer in order to maintain your warranty. However, that is not the case. You can count on Mr. Lube for warranty-approved service* that carefully follows the service intervals and product specifications your vehicle's manufacturer recommends for the exact make, model, and year of your car. So, when you need fast and effective maintenance services that cater to your vehicle's unique needs, you can count on your local Mr. Lube for a job done right.
Why Choose Mr. Lube + Tires?
Fast, same-day, warranty-approved oil changes performed by certified technicians.
Drop in anytime. No appointment needed
Free courtesy checks with every visit.
Valuable car care tips and advice, and the latest technology including the Electronic Owners' Manual.
Your feedback is important to us.