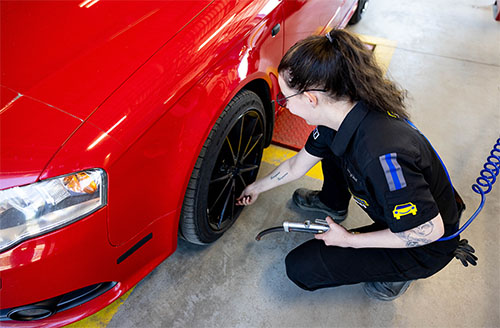 Tire & Wheel Service
At Mr. Lube, we offer a variety of tire services and strive to provide the best car care for our customers. From checking your tires' tread depth to storing your seasonal tires, we've got you covered. With our certified technicians, you can trust that we'll take care of your tires.
We are TIA Certified
The Tire Industry Association (TIA) is the premier tire industry training and safety organization worldwide.
Tire Change
We understand the importance of changing tires in the differing seasonal temperatures in Canada. When the average daily temperature is over 7 degrees Celsius, it's time to make the change to summer or all-season tires. On the other hand, when the average temperature is below 7 degrees Celsius, you're ready for winter tires. Changing your tires at the right time will ensure you optimize the life of your tires. When you come to Mr. Lube to change your tires, you don't need to make an appointment and we'll provide fast, same day service.
Tire Repair
Our professional technicians will properly repair your tires if they have been damaged. We inspect your tires and repair punctures in the tread, as well as maintain air pressure at the manufacturer's recommended levels. This will prevent further tire damage and ensure you are driving safely.
Tire Inspection & Tread Depth
As part of our complimentary check, we will analyse your tires using a tire inspection report. This includes reporting tire pressures (before and after adjustments), a visual inspection, and measuring the tread depth of your tires. Incorrect air pressure can cause rapid or uneven tire wear. Our visual inspection includes a check for cracks, deep cuts, slits, blisters, and irregular wear. We use an accurate tread depth gauge which can detect developing wear patterns earlier than simply looking at the tread. This often allows the cause to be identified and corrected before excessive or irregular tread wear ruins the tire. When you come to Mr. Lube, you can count on us to make sure your tires are safe and secure to use.
Tire Rotation
We also offer tire rotation to protect your tires from uneven wear. Performing a periodic tire rotation will help balance out this or the wear and improve the stability of your vehicle. We'll rotate your tires to extend their tread life and help improve your car's performance.
Tire Balancing
Regular balancing can protect your car from damage over time caused by the distribution of weight around your tires. Balancing your tires can minimize the potential vibrations you may feel while driving. Our TIA certified technicians will ensure your tires are correctly balanced for a smoother, more comfortable ride.
Your feedback is important to us.