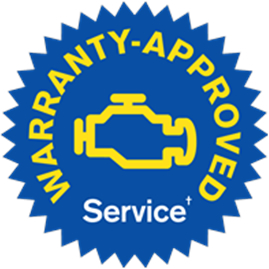 Standard Oil Change
Oil keeps your engine lubricated and reduces heat. Your oil filter helps prevent engine damage by removing contaminants that build up in the oil. Carbon, dirt, and debris become suspended in the oil and cause it to lose effectiveness, which leads to increased engine wear and decreased fuel economy. Regular oil and filter changes keep your engine clean and lubricated.
Get in the habit of regular engine oil and filter replacements: They are the biggest factor when it comes to your vehicle's life.
Warranty-approved service for peace of mind
It's a common misconception that you must get your vehicle serviced by your dealer in order to maintain your warranty. However, that is not the case. You can count on Mr. Lube for warranty-approved service* that carefully follows the service intervals and product specifications your vehicle's manufacturer recommends for the exact make, model, and year of your car. So, when you need fast and effective maintenance services that cater to your vehicle's unique needs, you can count on your local Mr. Lube for a job done right.
Why Choose Mr. Lube + Tires?
Fast, same-day, warranty-approved oil changes performed by certified technicians.
Drop in anytime. No appointment needed.
Free courtesy checks with every visit
Valuable car care tips and advice, and the latest technology including the Electronic Owners' Manual.
Your feedback is important to us.